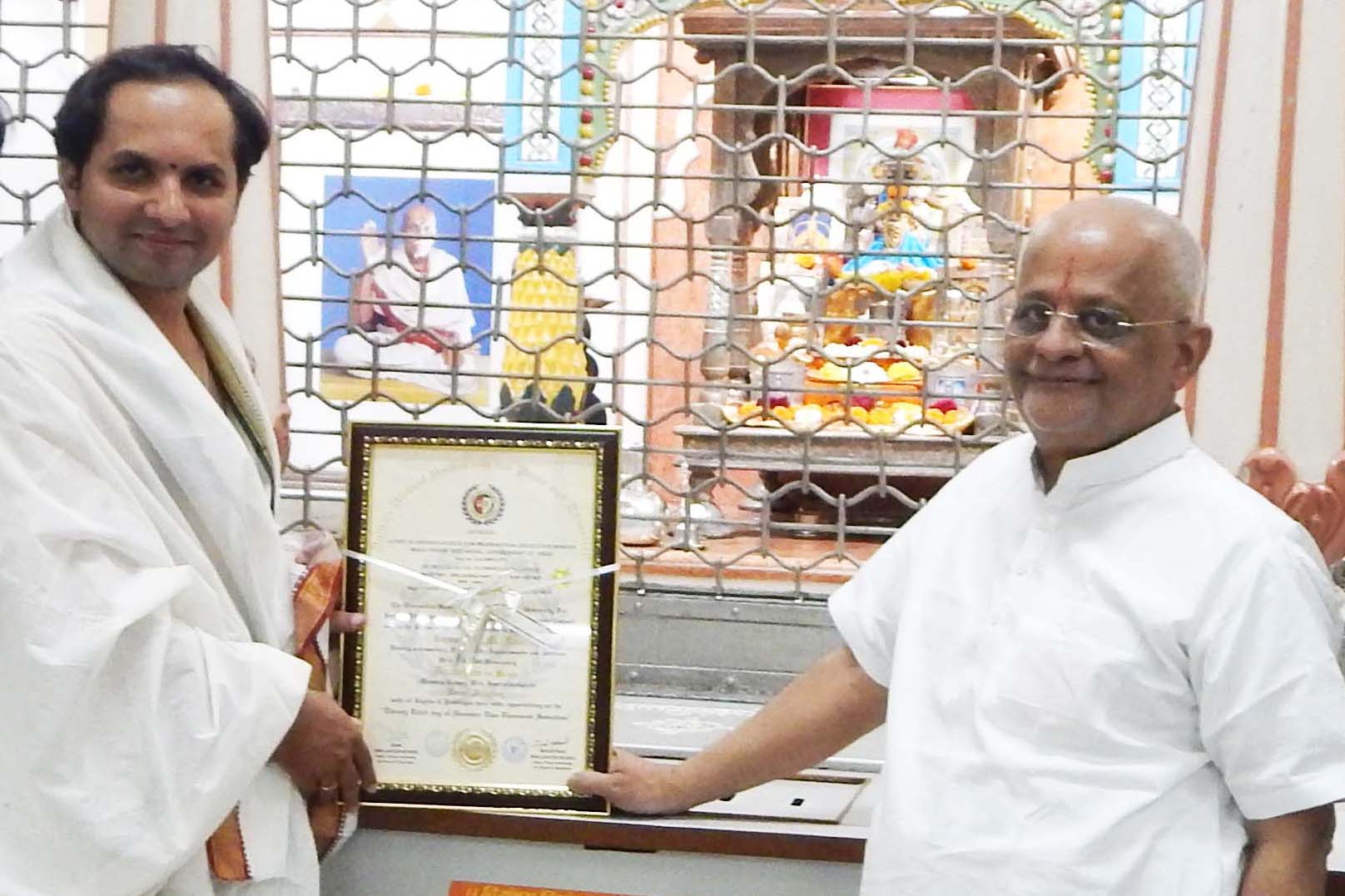 -Heera Venkat
Sagara: Chinmaya Rao of Honagodu, who achieved a feat for World's Longest Duration Audio Recording for all the 6,621 Sanskrit verses of the Big scripture Sri Guru Samhita written by Sri Vasudevananda Saraswathi , had been honored recently at Sri Vasudeva Nivas in Pune ( http://www.vasudevniwas.org/en/ )as divine blessing.
The program was inaugurated by Chinmaya Rao himself, singing the verses of the first chapter of the same Sri Gurusamhita scripture.
He also shared his experiences with the devotees who had gathered there, about this soundtrack and the challenges faced during recording.
After felicitating Musician Chinmaya Rao His holiness Swamiji Parama Poojya Shri Sharad Shastri Joshi Maharaj of Shri Vasudeva Nivas with his divine blessings, appreciated vocalist Chinmaya Rao for this World Record for singing all hymns of this very big Sanskrit script in his own voice. Guruji congratulated Chinmaya Rao for successfully completing this work despite the challenges and conveyed his best wishes on behalf of Vasudeva Nivas in Pune. His holiness also stated that such great works should be done more often in the future.
He was also quoted saying the above as follows –
Blessings from P.Pu.Shri Joshi Maharaj
||ShreeGuruSharanam||
"My heartiest blessings to Shri Chinmay Rao from Bangalore,who has made a world record of singing the entire "ShriGuruSamhita" written by P.P.ShriVasudevanand SaraswatiSwamiMaharaj in Sanskrit.
"ShriGuruSamhita" was composed by P.P.ShriVasudevanand SaraswatiSwamiMaharaj at Bramhawarta.
This divine and sacred composition of Shri Swami Maharaj is in Sanskrit…the Godly,Universal language.This has made it possible for every person across the Universe to recite it.Thus Shri Swami Maharaj has practically reached throughout the masses.
May all the divine and philosophical literary work of Shri Swami Maharaj spread across the masses and shower upon them His grace and blessings.
At this time, trustee members and the devotees of Sri Vasudeva Nivas were present. Anand Kulkarni, head of Sri Vasudeva Nivas, was present in the event, and also coordinated and compered this program.
-Heera Venkat
18-3-2018