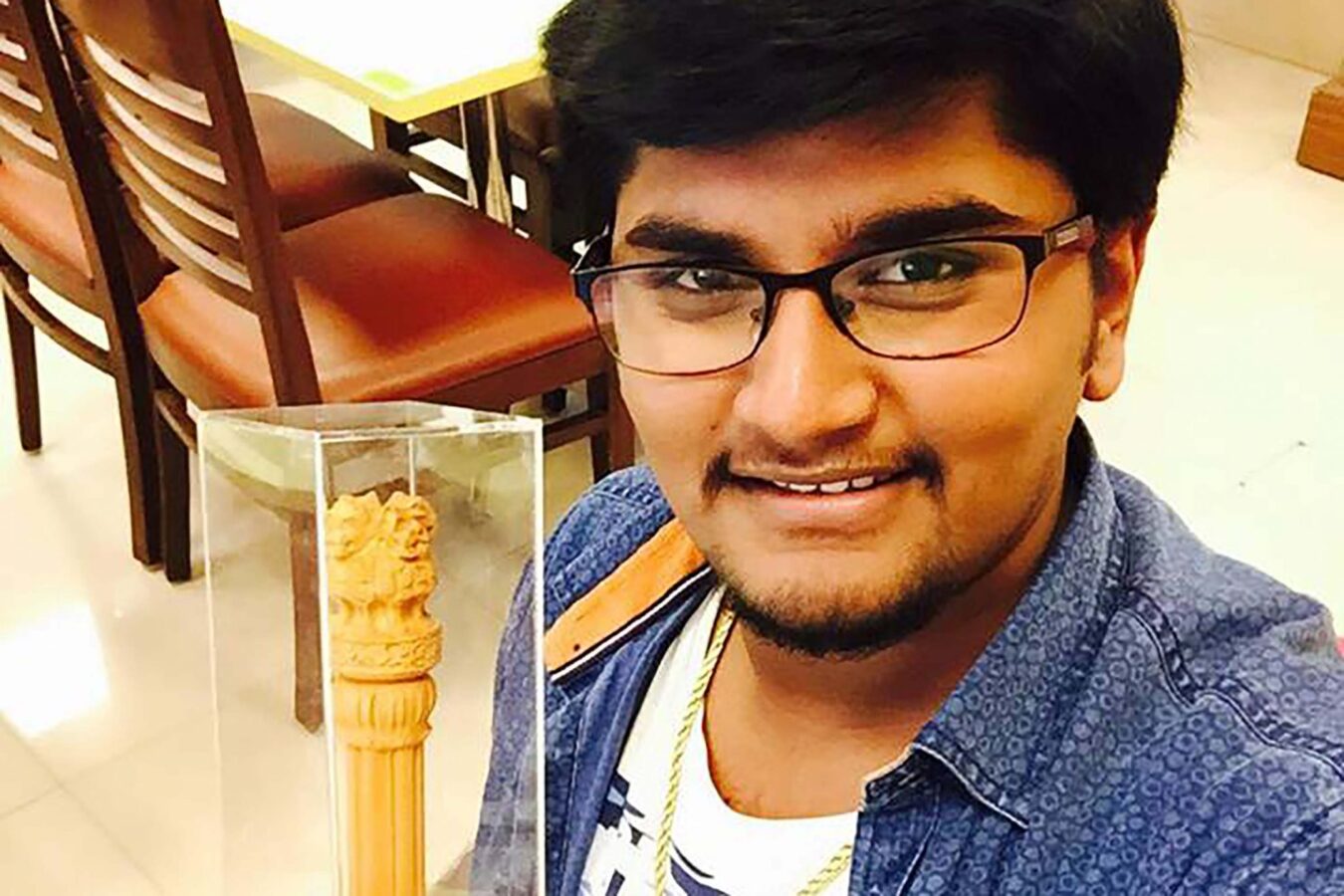 By
Smt.R Sathyavathi
No matter what ever field it is, only when he/she has a goal and zeal to achieve it, he/she can successfully reach the goal by practicing with full dedication .In these days, we can see most of them as examples. In the present scenario, the only field that is attracting everyone, young or old is the music field. The young and enthusiastic ,budding, energetic Manoj Sharma is one among them, who wanted to give the world the gift of his voice, is a singer by heriditery. He has sung many songs and has given his voice to the masses.
The childhood soul and the home yard is filled with the garland of seven notes.
Mother is the first guru and home is the first school. Smt C S Lakshmi started her music lessons to her son at home itself. His father Sri S R Srinivas is an advocate. The couple's only son Manoj Sharma is entitled to many names at his young age itself. He was born in Bhadravathi and was brought up in Haasan. Though his education of Sangeeta started at home, the other part of education was at Haasan.
At the age of 4 years, he sung 'Thoredu jeevisa bahude hari ninna charanagala' at Sri Raghavendra Swami Mutt Aaradhana Mahothsava and enthralled the audience and won the prize. Even during his school days, he used to participate in many music programme without fail and his teacher used to look forward for his programme. He opened the doors of opportunity by singing on his own and never turned back. With his firm mind, he put a break to his teenage dreams and continued his singing. His guru Vidwan Savitri Manjunath taught him Karnataka Sashtriya Sangeetha in which he learn't with full dedication .At present he is learning Karnataka shastriya sangeeta and sugama sangeeta from his guru Vidwan K R Venkatesh.
The supreme use of his voice, created the words of tunes in foreign countries.
His class mates helped him a lot by encouraging him to move smoothly on his track and made his dream come true. He put his step forward along with his friends and attended many programmes. Though his track moved forward smoothly, he tried his best to give his recognition to the masses. After completing his PUC at Shree Swami Narayan Gurukul , he had moved back to Haasan for completing his degree in BAMS which became difficult for him to balance between the music and the studies and had to take a break. Again with the inspiration of his institution and support by his beloved Principal Dr Prassanna Narasimha Rao , he again started his journey in the kannada film industry. His voice was very well recognized while he was in Swami Narayan Gurukul and recording for the album was done. His voice was selected for IVRS recording and we will get to hear in about 38 languages. At present, he has given his voice for a Russian ad company in over 14 different languages. The question of how he was capable of singing in so many languages was cleared by him by telling that he used to write them in kannada letters and would understand the lines before singing.
His music is so mesmerizing, it retains in the memory and is ever lasting.
Now a days, people are involved in internet and we could say that there is no life without internet. The short movies that pop up are filled with Manoj's voice. He has created his face book page in which there are more than a lakh viewers which is of a great prestigious matter. It is filled with short videos which gives us information on present day situations and stories on social, environmental wellbeing is really appreciable.
The honour and awards he received was the most enjoyable moment.
Manoj has gained a lot of appreciation and encouragement from many institutions and he got the opportunity to sing in front of the famous singers like S P B, Hamsalekha, Nanditha K, Kalyan, Rajesh Krishnan and got appreciated by them and also got the chance to sing with their groups. We could hear a big sound of applause when he starts singing 'mamaravello kogile yello'. He performed in over 700 programmes and won over 200 medals and many institutions honoured him and titled him as Kalaniketana, Gaana kusuma, Sangeetopasana and awarded him. He also travelled to foreign countries and spread the scent of kannada all over.
As a playback singer Manoj Sharma.
He stamped his name on the film line by singing the track song in the movie 'Manoratha'. Singing for Sri Hamsaleka sir's composition at Vidanasoudha Vajramahothsava last year was a major hit. He had given shows with music directors such as Anoop and many others. He has also done back ground scores for the upcoming movies such as Bheemasena Nalamaharaja, Dalapathi and many others. He was one among finalists for Radio City Super Singer Season 9 (91.1) in the year 2007.He also performed in shows like 'Ee samaya Raajamaya' at Bengaluru Ganesha Uthsava, Lakkundi Uthsava and so on.
For his achievements, he always thanks his friends, Father, Mother and his grandmother and he is a role model for today's young generation. He is always on the track of success and works towards his goal.He is gained by many followers who wishes for his dream come true. Let us all wish him a good luck and may he grow to a great heights and shine one day.
By
Smt.R Sathyavathi