"It is not frequent that a nation discovers a Balamuralikrishna in its history".
– These are the words of Swami Chinmayananda.
Not everyone among the performing artistes is fortunate enough to become a legend in his or her lifetime, but this rare distinction has come to stay in the case of Dr.M.Balamuralikrishna, who is rightly regarded as the best exponent of South Indian classical music for over six decades now. No wonder, a road in Vijayawada has been named after him by the local corporation and he has been honoured as Honorary First Citizen of Vijayawada and handed over the Golden Key. A Kalyana Mandapam has been constructed in his name in Visakhapatnam. He is a fifth generation descendant in the guru Sishya Parampara (Hierarchy of disciples) of saint composer Shri Thyagaraja. He was a child prodigy born to musician parents Smt.Suryakanthamma and Shri.Pattabhiramayya becoming a versatile, popular vocalist and composer at the young age of fifteen years itself. At the tender age of sixteen, he composed songs in all the seventy two Melakartha ragas, considered the very foundation of our music and perhaps all other music on earth.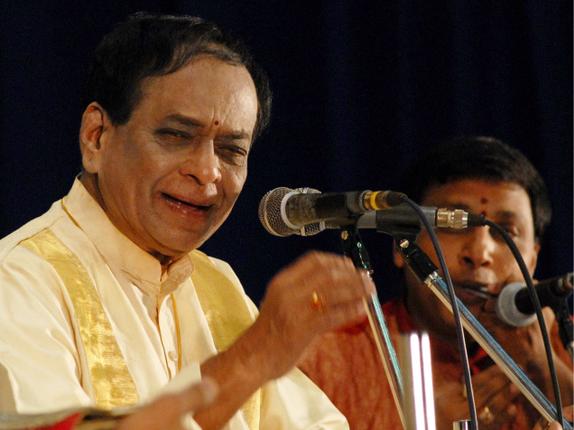 Dr.M.Balamuralikrishna was born at Sankaraguptham in Andhra Pradesh and is endowed with the ability of being an accomplished instrumentalist in addition to being a vocalist. He plays Violin, Viola, Ganjira, Veena and Mridangam with equal ease. He has 400 compositions to his credit including Varnams, Krithis, Havalis, Devotional songs and Thillanas.
Dr.M.Balamuralikrishna also did a comparative study of ragas in film music and classical music and presented the same in Doordarshan. Being the first producer in All India Radio, he is also known for pioneering early morning broadcasting called 'Bhakthi Ranjani'. He was the first principal of Government Music College, Vijayawada besides having sung in various languages including Tamil, Oriya, Marathi, Telegu, Bengali, Kannada, Malayalam, Hindi and French. He is the state musician of Tamilnadu, Andhra Pradesh and Asthana Vidwan of Sringeri Peetam and Tirumala Tirupathi Devasthanam. He is the member, Expert Advisory Committee, Music Academy, Executive Committee Member, Kalakshetra Foundation, ICCR and Central Sangeeth Natak Academy.
In fact it is very difficult to find words to express in exact terms Dr.M.Balamuralikrishna's rich contribution to the Indian classical music, especially his sustained efforts that were responsible for resurrecting ragas which were not in vogue like Narthaki, Sunadavinodini etc., besides creating new ragas like Lavangi, Mahathi, Manorama, Murali, Omkari, Prathimadhyamavathi, Rohini, Saravashree, Sumukham, Sushma, Ganapathi, Siddhi, Pushkara Godvari etc., He is also credited with innovating Tala Systems. He has also presented Rabindra Sangeeth for preservation for future by All India Radio.
The magnetic capacity of his voice and music saw crowd puller towards Jugal Bandhis he performed with renowned vocalists and instrumentalists of North Indian classical music and helped in bringing about an understanding of National Integration through music.
To record and print all his creations to preserve for posterity, a Trust by name VIPANCHEE has been created and the work is in progress under the direction of chairperson Kalaimamani Dr.Saraswathi, a versatile artiste.
Balamuralikrishna died at his residence in Chennai on 22 November 2016; he was 86. Balamuralikrishna is survived by his wife, three daughters, and three sons who are all Doctors.
Awards
Rotary Continental Centeneray Award, Bangalore – 2004
National Artist of India, Govt of India – 2004
Life Time Achievement award by Kanchi Kamakoti Swami – 2004
Madhava Peddi Satyam Award – 2003
Narayana Iyengar Award, Chennai-2003
Uthama Vaggeyakara Award by Chief Minister of Maharashtra, Mumbai – 2003
Nada Laya Siromani – 2003 (Valayapatti Award)
Desh Rathna Award by Govt. of Orissa – 2002
Buddha Maha Bodhi Dharma Award – 2002
Nada Vidya Bharathi National Award – 2002
Kalidas Samman Award, Govt. of Madhya Pradesh, Bhopal – 2001
Vishishta Puraskar by Telegu University, Awarded by Andhra Pradesh Chief Minister Shri. Chandrababu Naidu – 2001
Tamilnadu Film Industry 'GOLD IS GOLD' Award – 2000
Cine Musicians' Union Award, in recognition of services rendered to film field – 1999
Ganayogi Panchakshareshwara Award, Bangalore – 1999
Pandit Seshadri Panchakshara Gowai Award, Bangalore – 1999
Beswada Gopala Reddy Award – 1999
Indira Priyadarshini Award, New Delhi – 1998
Kinnara Ugadi Award – 1993
Gana Kala Prapoorna – Wisdom – Star of India – 1991
Padma Vibhushan by President of India, Shri R.Venkataraman – 1991
Abhinava Thyagaraja Vamsi Art Academy Award, Hyderabad – 1987
Padma Shri By President of India, Shri V.V.Giri – 1971
Cash Award by Dr.S.Radhakrishnan, President of India – 1958
Golden Medal by Babu Rejendra Prasad, President of India – 1953
Fellow, Central Sangeeth Natak Akademi, New Delhi
Central Sangeeth Natak Akademi Award, New Delhi
Andhra Pradesh Sangeeth Natak Akademi Award
Golden Jubilee Award of Central Sangeeth Akademi, New Delhi presented by Shri A.P.J.Abdul Kalam, President of India.
Kerala Sangeetha Natak Akademy Award, Tiruvananthapuram
Rajalakshmi Foundation Award
Hridayanath Mangeshkar Award by Lata Mangeshkar
Hafiz Ali Khan Award
National Integration award by Maharashtra Governor
Gandhi Memorial Medal, UNESCO, Paris
Prathiba Vyjayanthi Award, Rajahmundry
Athma Gowravam Award by Chief Minister of Andhra Pradesh
Purandara Prasasthi Award (Karnataka)
Sri Krishna Vedavvyasa Award by Raja Marthanda Verma, Travancore.
Award by Mother Terasa at Hyderabad
Platimum Jubilee Award by Governor of Tamilnadu
Best Playback Singer – National Award
Best Music Director – National Award
Best Playback Singer – Andhra Pradesh State Award
Best Playback singer – Kerala State Award
Honors
D.Litt., University of Madras, Chennai – 2004
Asthana Vidwan – Sri Kalahasthi Devasthanam – 2003
Sangeetha Kala Visharada by Indian Institute of Music and Arts, Bangalore-2002
Gana Sarvobhowma by Chief Minister of Karnataka, Shri S.M.Krishna-2002
Sangeetha Vidyanidhi, Andhra Pradesh Music Academy – 2001
Bharatha Jyothi, Bharathiya Vidya Bhavan, New york – 2001
First contemporary Vaggeyakara by Music Academy, Chennai-2000
Asthana Vidwan –  Srisailam Devasthanam – 2000
National Citizen
Advisor, Cabinet Rank to Govt. of Andhra Pradesh for Culture (Music)
Ph.D. Andhra University, Visakapatnam
D.Litt., Sri Venkateshwara University, Tirupathi
D.Litt., Central University, Hyderabad
D.Sc., Jawaharlal Nehru Technological University, Hyderabad
D.Litt., Rabindra University, Kolkata
Asthana Vidwan – Govt. of Andhra Pradesh (Former)
Asthana Vidwan –  Sringeri Sarada Peetam, Sringeri
Asthana Vidwan – Tirumala Tirupathi Devasthanam (Former)
Asthana Vidwan – Govt. of Tamilnadu (Former)
Asthana Vidwan – Sri Kanakadurga Devasthanam, Vijayawada
Asthana Vidwan –  Hanuman Temple, Nanganallur, Chennai
Pro-Chancellor, Telegu University, Hyderabad (Former)
First Professor, Dr.Radhakrishnan Chair, Central University, Hyderabad
Expert Advisory Committee Member, Music Academy, Chennai
Executive Committee Member, Kalakshetra Foundation, Chennai
Executive  Committee Member, ICCR
Professor Emeritus, Government of Kerala Music College, Tiruvananthapuram
Ghanta Kankanam by Shri N.T.Rama Rao, Ex-chief Minister of Andhra Pradesh
Member, Sangeeth Natak Akademi
Gaja Arohanam (Twice)
Ganapinderam by Chembai Vaidhyanatha Bhagavathar
Kala Seva Niratha by Sangeetha Vidwath Samajam, Chennai
Sangeetha Sagara by cultural Centre of Performing Arts – 1989.
Titles
Sangeetha Yogi Rathna by Pamban Swamigal Music Trust, Chennai-2005
Sangeetha Kala Sikhamani by Nungambakkam Cultural Academy,Chennai-2004
Bharatha Kala Ratna by Pracheena Kala Kendra, Chandigarh-2003
Isai Perarignar by President of India, Dr.Abdul Kalam – 2002
Gana Sarvbhowma by Chief Minister of Karnataka, Shri S.M.Krishna-2002
Sangeetha Kala Visharada by Indian Institute of Music and Arts, Bangalore-2002
Bharatha Jyothi, Bharathiya Vidya Bhavan, New York – 2001
Sangeetha Vidyanidhi by Andhra Pradesh Music Academy-2001
First Contemporary Vaggeyakara by Music Academy, Chennai – 2000
Sangeetha Kala Ratna by Andhra Association, Chennai – 2000
Kala Rathna by Rasika Ranjani Sabha, Chennai – 1999
Sangeetha Sagara by Cultural Centre of Performing Arts, Bangalore-1999
Nadhabrahmam by Narada Gana Sabha, Chennai – 1995
Gayakaratna by Swathi Thirunal Sangeetha Sabha – 1992
"Isaichelvam", Muthamizh Peravai by Chief Minister of TamilNadu – 1990
Gandharvagana Visharada by Lions Club International – 1990
Gana Sudhakara – 1945
Sangeetha Kalanidhi – Madras Music Academy, Chennai
Sangeetha Kala Sikhamani by Indian fine Arts Society, Chennai
Sangeetha Bhoopathi, Sri Lanka
Madhura Gana Ravali Krishna, USA
Sangeetha Sarva Bhowma, USA
Sangeetha Mahopadhyaya, USA
Annamacharya Vidwanmani by TTD
Nadyogi, by Ganapathi Sachinandaswami, Mysore
Nada Sudharnava by all Nada Sudharnavas
Sangeetha Sudhakara by Shri Kanchi Kamakoti Peetam, Kanchipuram
Adwitheeya Shatabdi Gayaka by Simhapuri Sangeetha Sabha, Nellore
Geetha Kala Bharathi
Gandharvagana Kalanidhi
Vaggeyakara Vachaspathi
Gayaka Sikhamani, Visakapatnam
Pumbhava Sarada
Sangeetha Samrajya Sarvabhowma
Gana Saraswathi Manibhooshana
Sangeetha Ratnakara
Sangeetha Vidya Bhaskara
Sangeetha Kala Sagara, Hyderabad
Ghandarvagagana Vithahar, Srilanka
Swara Vilas, Mumbai
Sirsinger, Mumbai
Sapthaswara Samrat
Sangeetha Kala Nipuna
Kala Seva Niratha by Sangeetha Vidwath Samajam, Chennai
Sangeetha Sarada by Vijaya Durga Peetam, Kanchipuram
Source : http://www.vipanchee.com/index.html