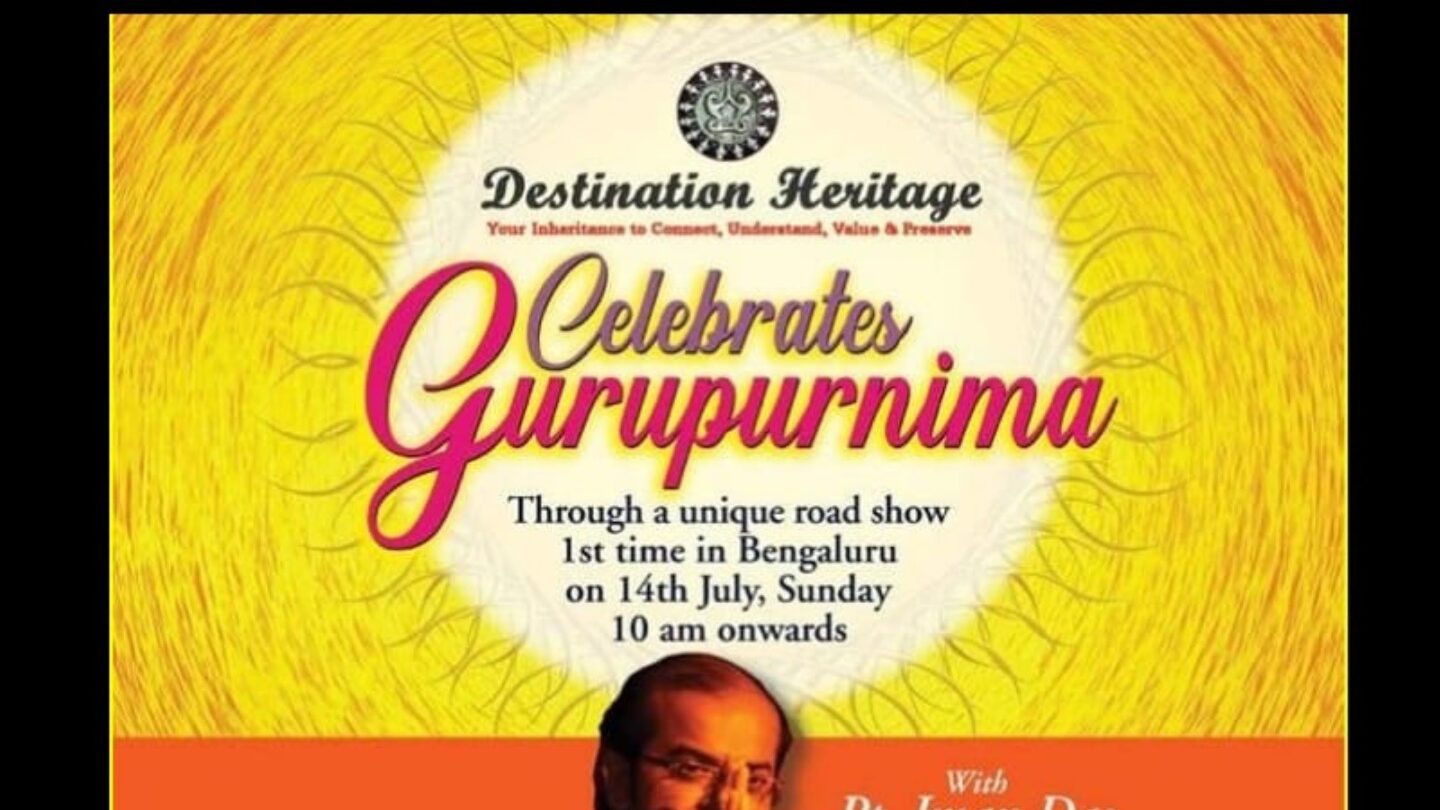 Destination Heritage celebrates Guru Purnima on the 14th July at Kuvempu park BTM layout Bangalore. With a road show, 50 children singing guru vandane, a brief talk on heritage and music, storytelling session on concept of guru shishya through the ages, distribution of clothes to 30 under privileged children and a tour of the IME JP Nagar are the highlights.  We hope to reiterate the importance of a guru in shaping the future.
The chief guests are BTM layout Corporator Sri. K Devdas, Dr. Sudha Gopinath, and Smt Jaya Sastry, Principal Alpine School
Tasmay Shree Gurve Namah (तस्मै श्री गुरवे नमः)
Generations across the World have been shaped by the GURU, starting from the mother who emphasize on ethical perspectives and values. Indian tradition recognizes this and has the unique tradition of offering gratitude to Gurus on Guru Purnima. A guru does not give, as much as removing ignorance fathoming the depth or shallowness of the pupil before beginning to teach with the Purnima denoting illumination. Also known as Vyasa purnima we pay obeisance to Vyaasa the first Guru.
Music is the melody of life sustained by the rhythmic murmur of our heart beats that creates positive vibrations. The students of Omkar Music Trust being trained in Hindustani music hope to create a harmony to bring people closer with a road show and showcasing the singing talents of 50 children singing guru vandane shlokas.
A heritage connecting music is a talk by Dr. Githa U Badikillaya, founder trustee of Destination Heritage. Bangalore's music scene is as diverse as its people reflected in its diverse musical genres from classical to new age pop music. Without a hall there is no music or rasikas. Three heritage halls will be brought to light in her crisp talk.
The story telling session by author Aniket Sharma will inspire the young audience with stories through the ages, of exemplary guru shishyas, of teachers who weaved the future and became immortal and of disciples who followed the teachings and became legends.  But it's more to fine-tune the youngsters to Listen, as their span of concentration needs improvement.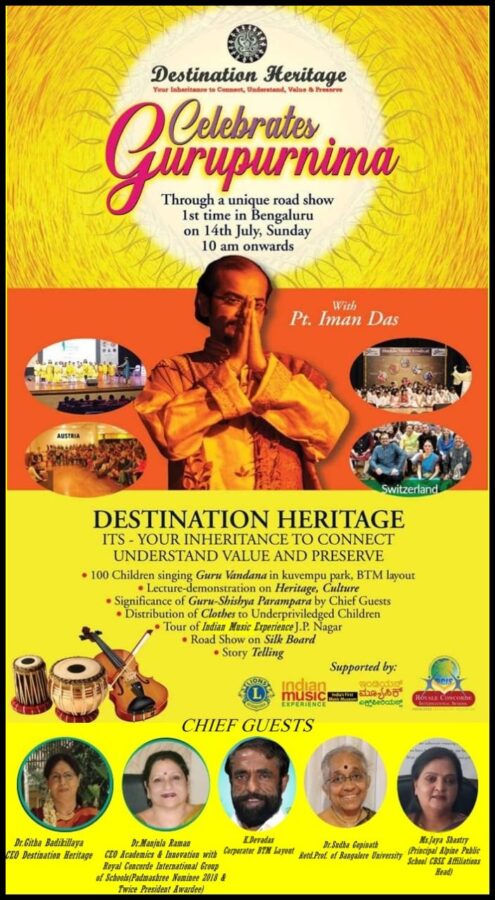 .