Hindi Day (Hindi Diwas) was celebrated at  Alpine Public School on 8th September. It was a challenging task to train 82 students for a Hindi song, written by their teacher Dinamani Mohankumar Ma'am.
As a musician, I took up the challenge with enthusiasm as I found it exciting both for me and the students. The lyrics helped me come out with a beautiful tune and the whole task was done smoothly.
I won't say it is great but of course, I took pleasure and I'm sure my students enjoyed singing this lovely song. I am uploading this video for their encouragement.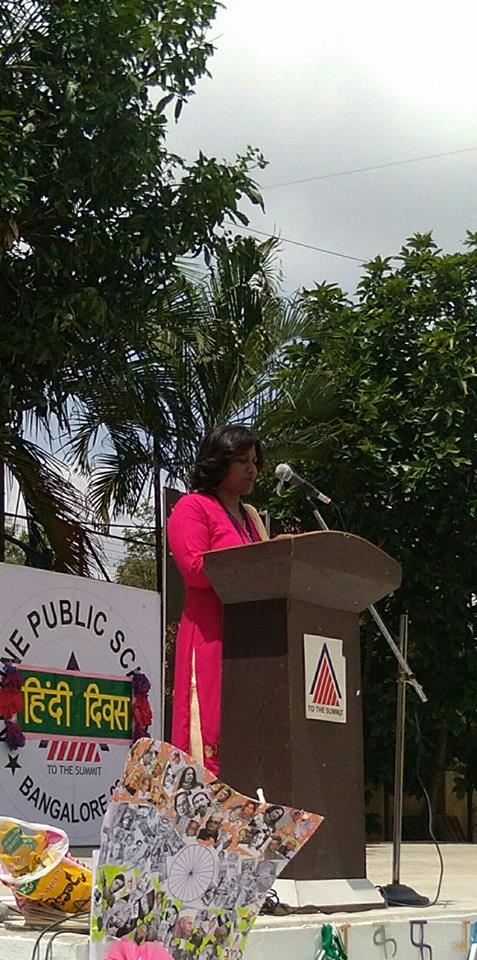 HINDI BHAASHAA HAMAARI HAI
HINDI DAY SONG-2017-18
LYRICS BY DINAMANI (HINDI DEPT.)
MUSIC BY CHINMAYA.M.RAO
ALPINE PUBLIC SCHOOL, BANGALORE
Hum Bhaarath Ke Nivaasi Hai
Hindi Bhaashaa Hamaari Hai
Desh Ki Yektaa Akhandtaa
Badaanevaali Shakti Hai || Pallavi ||
CHARANA-1
Yektaa Ki Jaan Hai
Hindi Desh Ki Shaan Hai
Har Jan Ki Garimaa Ye Hai
Hindi Badee Niraali Hai || 1 ||
CHARANA-2
Utthar Se Dakshin Tak
Poorv Se Lekar Paschim Tak
Har Jan Ke Man Me Ramti
Hindi Bhaashaa Hamaari Hai || 2 ||
***********
हिंदी भाषा हमारी हे
हिंदी दिवस गीत-२०१७-१८
स्वरचित कविता : दिनमणि (हिंदी विभाग) आल्पैन पब्लिक स्कूल बेंगळूर
संगीत : चिन्मय एं.राव
हम भारत के निवासी है
हिंदी भाषा हमारी है
दॆश की एकता अखंडता
बढानेवाली शक्ति है ॥
एकता की जान है
हिंदी दॆश की शान है
हर जन की गरिमा ये है
हिंदी बडी निराली है ॥
उत्तर से दक्षिण तक
पूर्व से लॆकर पश्चिम तक
हर जन के मन मे रमती
हिंदी भाषा हमारी है
*************
https://www.youtube.com/watch?v=mLu1nRKhyNw