Dad and I waited eagerly outside the labor ward, the nurse came out, walked towards us and it appeared as though she had a wriggled towel in her arms, but towel??!!What for!!!?? Typical questions that strikes in a 5 year old brain!!She came close to us, jeez!! It was a cute little baby, my sis, completely wrapped, skinny no wonder, who weighed just 2.2 lbs!!!That was the first time I'd seen a newborn .Deliberations over the resemblances of the infant dawned, she's my sis- my facsimile no matter what! was my hypothesis!!! I was so excited that I'd someone to play with from the very next day! But, was kind of disgruntled and of course did strain my lachrymal too when dad told me that mom and the baby would be discharged after three days.
Aparna was the name given. "When would she talk to me? Mom smiled "takes time". Aparna stayed with my granny. After a couple of months I was astounded to see her plumped!!!Very cute as ever and she could talk too!!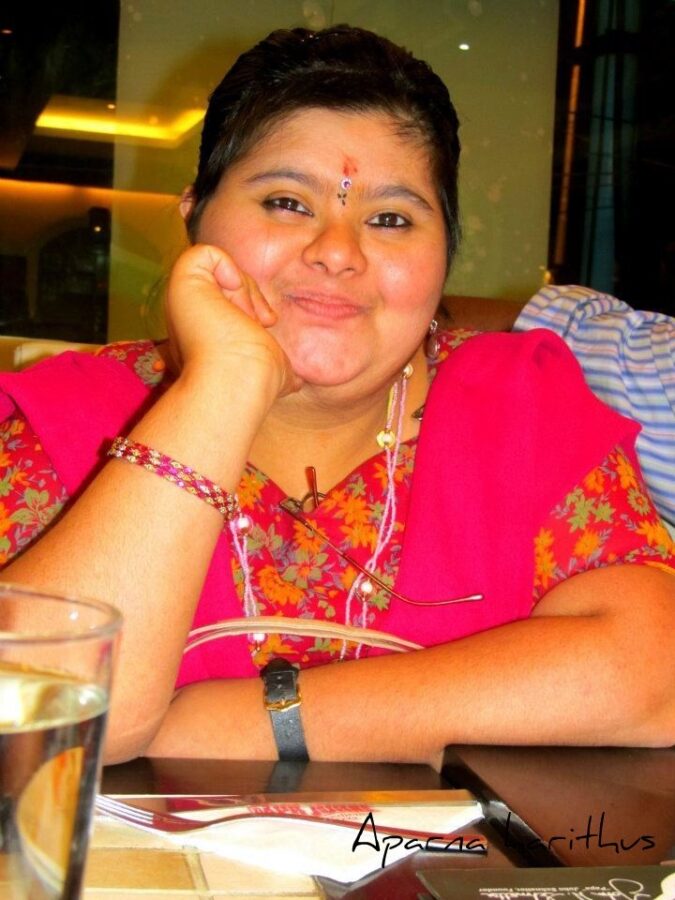 Aparna was enrolled to the same school I was studying at the age of 2 years 10 months for Montessori. After few months we had a showers of denounces from the teachers over her behavior later when enquired, they retorted that she lacked in performance, was never interactive, or quick in response like her contemporaries. She needed an individual attention which was impractical to offer in their school. Counseling was held at Brindavan, couple of tests revealed, her low I.Q, that implied that she was "a special child" and was to be qualified in a special school.
Addled, tensed, hassled, debilitated and beyond was our state of mind." What about her future?"How will the society treat her who's known for its cruelty??" were the questions haunting in and out. Disability -"God's Own Creation" to attain determination to eradicate disability is the adage of special schools so it was in BETHANY Aparna grew up like a normal child with individualistic approach in her daily routine, with least assistance. True that she lagged in studies, but academics was not everything for her to succeed. Her mentors found and focused on a hidden person within her –an artist .A quote says "It seems that for success in science and art, a dash of autism is essential". She put an end to all our qualms by showing her talents in making mats, candles, jewelry making, and dance. She proved to be good even at cooking and was known for her hospitality, hygiene, dressing sense, and joviality.
She was compelled to join a normal school again, where she completely deteriorated. She found it tough to cope up with her equals and felt humiliated, her silence, the doldrums, her sulks spoke!
That is when we decided to enroll her in J.S.S SAHANA .She was as happy as before. She studied there for nearly 5 years .Meanwhile at SAHANA she showed that she was good even at sports. She participated twice at SPECIAL OLYMPICS and won gold medal in BOCCE held at Hyderabad. later she was with SRUSHTI SPECIAL ACADEMY undergoing vocational training in mat making, beautician course and stitching jute bags. She's currently with Yashaswini Swavalambana Trust an vocational training centre as special employee and is the Treasurer of K.P.A.M.R.C, Karnataka, which is one among those few organizations that strives for rights of special children.
Encouragement, love, care, individual attention is what we bestow on our papoose, but shaping our child's career is possible by a right teacher alone. I seize this opportunity to thank all the tutors, who've laid in their efforts to bring out those hidden potentials and guided her to be a complete individual.
Let me wind up with a short note, which's a ray of hope (spero) for a positive mutation in us, or our clique called the SOCIETY.
To parents:" A special child is a temporarily disabled and diminutive version of a larger person, whom you will someday know, our job is to help the child overcome the disabilities associated with their size and inexperience so that they get on with being that larger person."
To the society:" Know the being, not the disability, in fact look past the disability and you will see a person, an individual who has the same thoughts and feelings as you."
An equal treatment of unequal by the equals defines equilibrium
Imbibe and celebrate the difference.
A SMILE CAN WORK WONDERS FOR SPECIAL CHILDREN,NEXT TIME U SEE THEM ,DON'T FORGET TO GIVE ONE……….
-Ambica Harithus