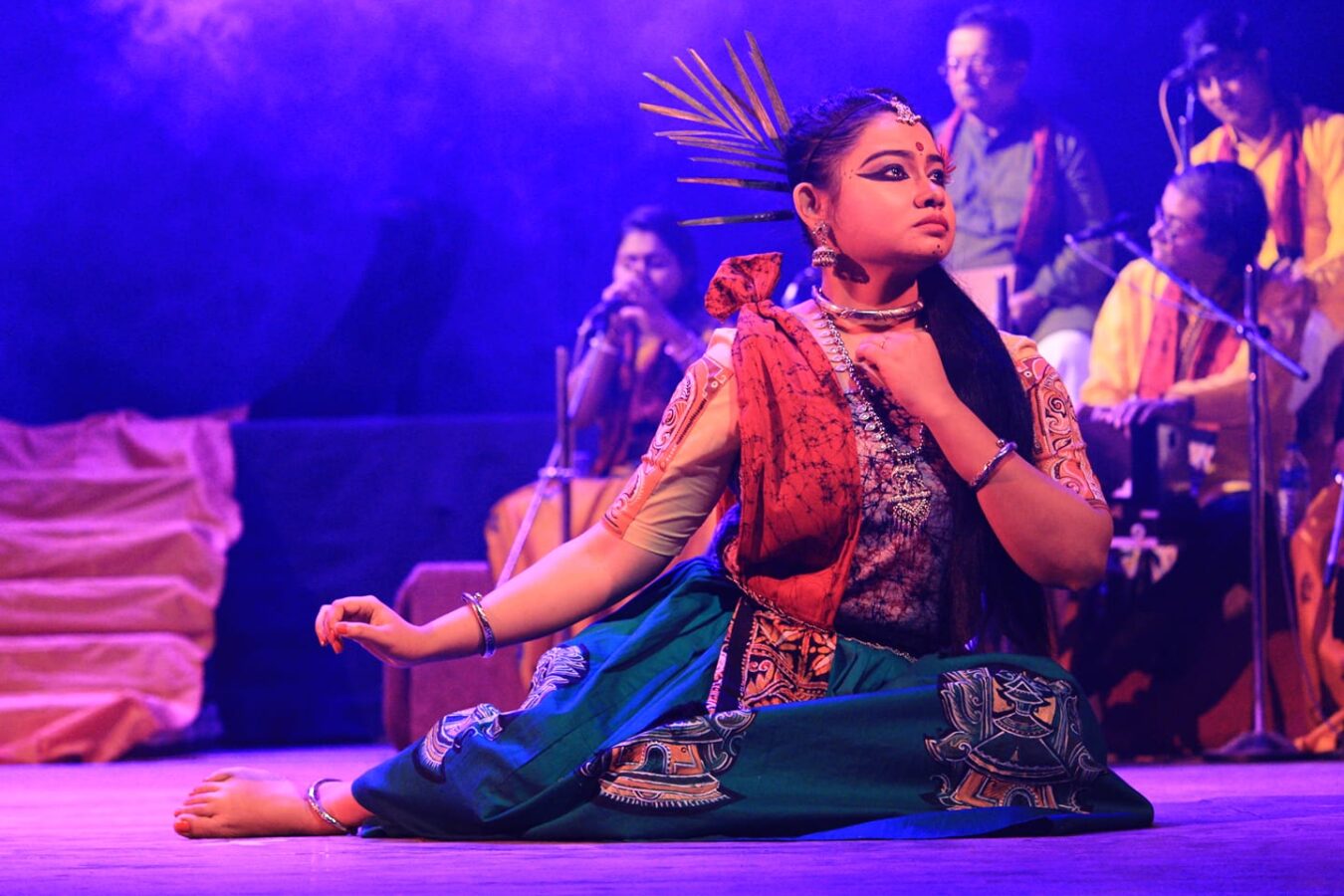 Moumita, hails from West Bengal (the cultural state of India). From Childhood onwards she was always been inclined towards dance. She entered the world of dance at the tender age of five and performed in various school level competitions. Since then she has learnt various dance forms and currently actively learning Mohiniyattam in Monisha Arts under the tutelage of, Karnataka and Kerala Kalashree Guru. Smt. Sreedevi Unni. & currently pursuing her career in dance as performer and teacher in the Delhi Public school(east), Bangalore.
Guru. Smt. Sreedevi Unni has nurtured her talent since 2013. With the advanced and detailed learning under her Guru, her love for Mohiniyattam grew further. She is been embraced by several opportunities to perform on prestigious stages which helped her to develop confidence & hunger for such profound dance art "Mohiniyattam" further. Apart from this she is also very keen on exploring other forms of dance, she performed and choreographed semi classical, Bengali folk dance, Rabindra Nritya, and creative dance.
Dance Form Learnt & Excelled:
Moumita's initial lessons in dance was in Bharatanatyam began in 2000 in West Bengal under Late Sandhya pal, disciple of Guru Thankamani
Rabindra Nritya from Nita Chakrabarthy in Kharagpur, West Bengal at the age of 8
After her 12th class, she continued her Bharatanatyam study from Kala Kaveri College of fine arts.
Moumita finds dance a true healing and happiness. She has choreographed dances to children during her high school and college years.
She is known for her hard work, determination and dedication. She presently works as a dance teacher in Delhi Public school (East) as a dance teacher Bangalore.
She has given several performances in Bharathanatyam, Rabindra Nritya, Semi classical dance form and Mohiniyattam till date.
Few of Them Are
Participation & Performances:
Cuttack Mahotsava, Cuttack
Sanchari Dance And Music Festival,Bangalore
Parinithi National Dance Festival, Shivamogga,
Bhathukamma And Dasara Festival,Shilparamam,
Purvai Sanskreetikala Vikaashkendra, ICDMF Bangalore
DANCE JATHRE 2018, Bangalore.
Global Organization Of People Of Indian Origin,Bangalore(GOPIO)
Kavyakeli Organised By Suvarna Karnataka Kerala Samajam, Mysore
Saffle Dance Club,Garden City University
Suvarna Sneha Sangamam,Mandya 2018
Iisc, Bharat Nritta Sanje, International Conferemnce Of Surface Engineering
Brahama Sadhana Organised By Brahmnaad Academy,Mumbai.
IIDF Bangalore 2017 And IIDF 2018
She Performed Her Solo Recital At Pavitrangana Shimoga Program Organised By Dr.K. S. 2018.
Attended Mohiniyattam Workshop Under The Guidance Of Neena Prasad At Bhratiya Vidya Bhavan
Attended Workshop Of SPIC MACAY International School Convection, 2017 At
Recognitions:
1-She Won Third Place In National Dance Competition At Brahama Sadhana Organised By Brahmnaad Academy,Mumbai.
2-She Performed a Malayalam Tv Channel Named Kappa TV And the Program Name Is" Footloose".