An Exclusive Interview of KARISHMA of www.radiokarishma.com
By CHINMAYA M.RAO
on 25-6-2013
"The Young, New generation of South Asians in the USA needs a fresh outlook and Young and New representatives and leaders":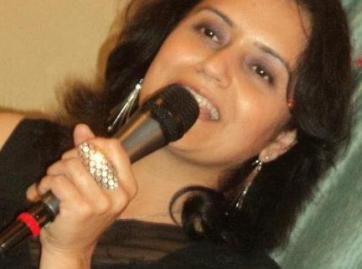 This is the inspiration behind Karishma's decision to present her own radio, with full energy and taking rabbit steps she is slowly but surely approaching the mission.
After working for different radio stations and maintaining her quality program, Karishma, decided to move to a new horizon with a motive of taking radio broadcast to new heights in north America, with a dream of giving South Asian community a great identity by representing them via this medium.
Her command over the language and passion for communication are indeed her strengths; exploring new ideas is her motivation; she is blessed with very independent thoughts and prefers to act at her terms.
Karishma came to USA in September 2002 and lived in New Jersey for 3 years. This is where she (who always have been an avid radio listener) started thinking that radio could be the medium through which she could express her creativity.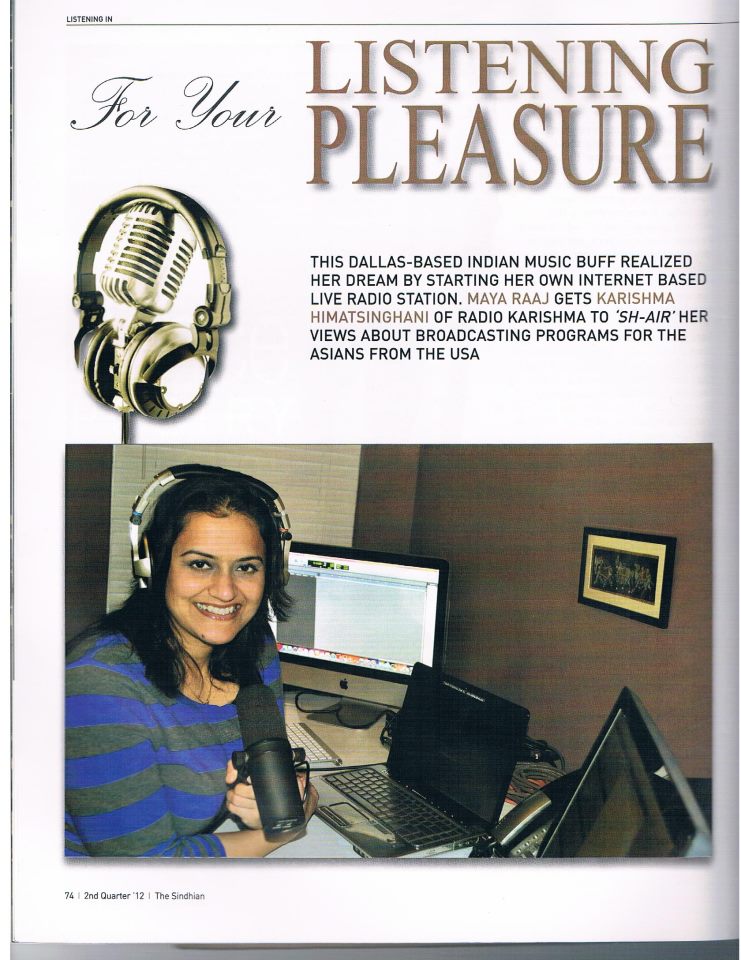 Karishma's radio career, in 2004, started with EBC radio, an Indian radio station in New Jersey. It was the ideal learning platform and gave her great exposure to the technical aspects of radio and voice modulation. She was with EBC for 6 months before moving to Dallas, TX.
She resumed her radio career in Dallas in 2006. Ever since, Karishma has managed to maintain the quality of her program providing listeners, a great connection to their roots , focusing on the culture, music, festivals and language of the Asian subcontinent.
Her programs deliver and offer well researched information with loads of entertainment for various age groups of south Asian ethnicity.
Karishma Himatsinghani; an ICWAI inter and Masters in Economics from Madhya Pradesh, India; is married with a Director of Sales for an Indian Outsourcing company. She is a mother of two boys.
Back home in India, Karishma was proactive to flare her creative thinking and communication and was not meant to do a monotonous job of an Accountant at a Construction company.
1-How RADIO KARISHMA is different than other web radios of the world? How it is unique?
Radio Karishma however is a web radio but its more of a traditional Radio than a common web based music sites or internet radio . we do live programming ,play all kinds of Indian Music right from Bhajans , to film music to classical to ghazals also take inspiring interviews also celebrate all Indian Festivals as well. This variety is not found in any other Radio on web or even otherwise.
2-How your past experience in radio field is helping now?
My Past experience has come very handy in running my own station on INTERNET ,since have been able to understand other dimensions of Radio during my work period in other stations and to start something on your own I think one needs a good foundation to begin with which comes with experience and qualification.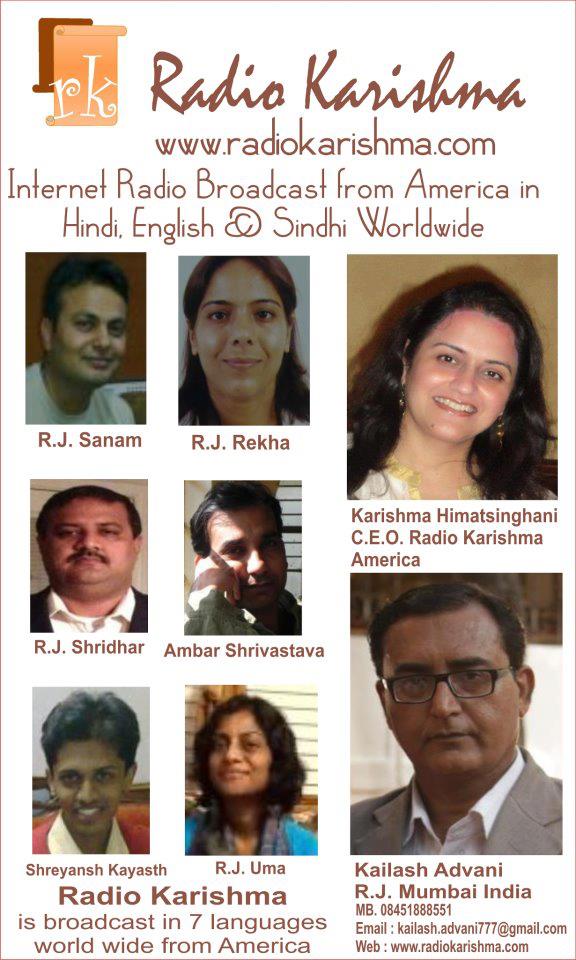 3-Technically how web radio is different from regular radios? Economical or not?
Technically Internet Radio Is very different form the regular station, where one needs big infrastructure hence need more money to invest whereas on Internet one can start with one computer and server in hand it is very economical and at the same time has wider reach world wide .
4-What are the main objectives of your web radio? Are they are fulfilling?
Main objective of Radio Karishma's is to promote Indian culture and Music all over the world ,we do it through playing different genres of music and make special programs on festivals and interviewing special personalities .
5-How much you are dedicating for your RADIO KARISHMA WEB RADIO?
I dedicate 10 to 12 hours everyday on my Radio for it to run properly. Its my passion and one can say I m running it like "Bhakti " since my bigger goal is to promote Indian culture through our music .
6-To which program you given more importance in your web radio? and why?
I give most importance personally to the cultural aspect of my Radio hence I like my Program on Indian festivals the most and also good selection of music is also our USP .
7-Tell something about your organization or firm?
Karishma's show inc started in May 2010 when we launched our website as a personal website which would have my previously recorded programs as an archive but after seeing overwhelming response we started live programming thus Radio Karishma online 24/7 Radio came into existence . I work as a CEO and COO of this company we run our Radio and create promotional material for our sponsors.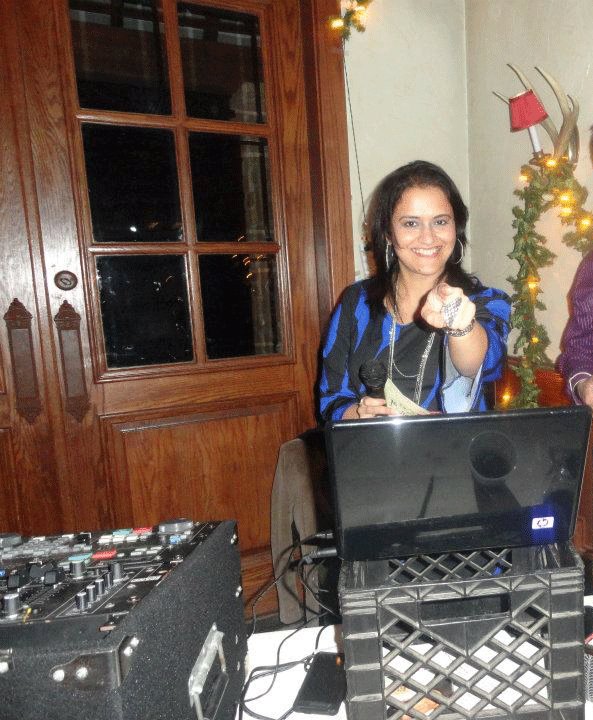 8-How many people are working for RADIO KARISHMA? Your words about them…
Right now we are 7 of us in RK Team . I have great team who produce great content for my Radio they are scattered in USA and India .
9-Income source to run this web radio?
Income source for Radio Karishma 's is from the advertisement and promotion .
10-RADIO KARISHMA is playing so many songs of different audio companies…are you paying royalty to concern firm?
RK is based out of USA and here license policy for Indian music on internet is blur but we are keeping our ears open and ready to update whenever needed.
11- How are you facing competition with other web radios?
Well competition from other radios and music site is immense, specially they provide choice to their listeners but Radio Karishma's is different and traditional radio which has a surprise element in the sense you get to hear music which one would either forgotten or not known so people like to listen to us .
12-How your family is supporting you regarding web radio? Are they first listeners?!
Rk would had not come into existence ,had it not been supported by my husband . He is the main inspiration and Driving force behind the continuity of Radio Karishma.
I am thankful to my entire family and friend Naveen Chandorkar who is technical brain behind Radio Karishma .
13-RADIO KARISHMA is beyond the languages? means is it telecasting all languages…?
RK plays music in different Indian languages around 8 to 9 languages ,Hindi , Sindhi,Marathi ,Bangali,Gujrati,Chhatisgari,Rajasthani ,Punjabi ,and Asamiya looking to add more languages slowly and gradually .
14-In RADIO KARISHMA web site in back side your photos are displaying….is its a one man show?
Well I m the only one who operates it but there are many who contribute either by technical support or by creating content .so any company or venture can never be one man show.
15-About fans of RADIO KARISHMA…
At the end I would like to thank all my listeners and well-wishers form the bottom of my heart as they too are biggest contributor in the small success of Radio Karishma's which is now heard in almost 77 countries adding 1000 of listeners every week ,over 2 million hits marching ahead and entertaining thousands of Indians across the world and spreading Indian culture .
Also Radio Karishma's is heard through internet on computers and also on phones through our iPhone app , android app and we are also registered on Tunein and Shoutcast.
I hope this suffice, please let me know .
Thanks
-Interview by CHINMAYA M.RAO for KANNADA TIMES -25-6-2013