NAMASTÉ
The only place where you can find true happiness is inside you!
Yoga is a beautiful way to unite and harmonize body, mind and soul. To synchronize your heart with your head.
It makes you sweat to get you strong, stable and flexible so you are ready to transform your higher vibrations.
Trough the connection of breath and sensual bodywork you connect to your inner source. That's how Yoga helps you step by step to transform into your full potential and be and live the best version of yourself.
One Love
Eleonora
Fallow   Eleonora Hertenstein On   Instagram
https://www.instagram.com/myyoga_eleonora/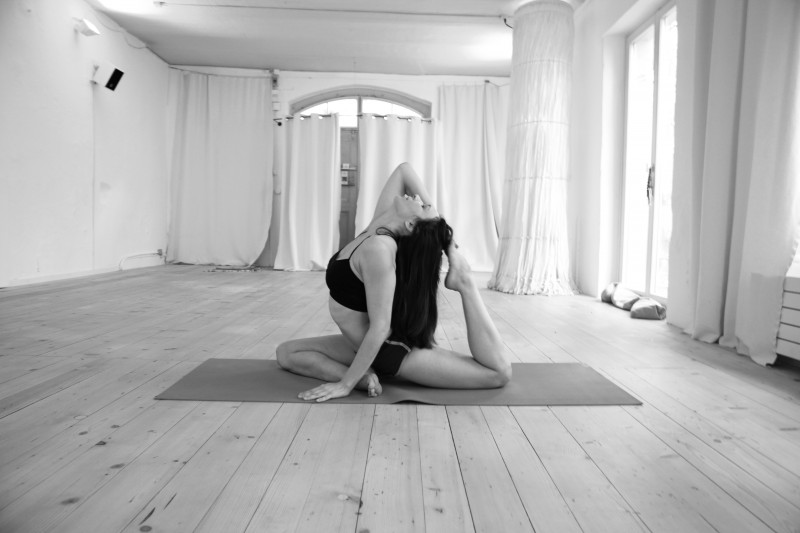 * YOU CAN'T STOP THE WAVES,
BUT YOU CAN LEARN HOW TO SURF *
Flowing, powerful, body and breathing Hatha Yoga with influences from different yoga styles such as dynamic Vinyasa, Iyengar and Kundalini Yoga. Through the practice of the Asana (physical exercises) with meaningful physical and mental orientation and the liberation of the breath, the vital energy of life (Prana) is flowed, blockades are solved at all levels. Through sensual, careful and demanding bodywork, we control this magical life energy for a more conscious and happier life.
All open classes take place in the beautiful yoga oasis Serratus in the heart of Kreis 4 in Zurich. Find the yoga that suits you and arrange a trial lesson.
important: Inform me before the hour in case you have physical complaints or injuries
in menstruation reversal do not practice or only briefly
If possible with an empty stomach, ie. 2 hours. before that no big meal
if possible 5-10 minutes before the beginning of the hour
noble jade mats and props are available
we practice without socks
breathe whenever possible calmly and evenly through the nose
Asanas (body position) slowly and controlled
Yoga is not an agility competition!
Yoga you do for yourself, enjoy
*** LOVE * PEACE * HAPPINESS ***