In 2016, Chinmaya Rao, the founder of Kannada Times NGO/Eye Dreams Promotions, was doing Music Direction for the Concept based Kannada Movie Mookavismitha. Then the Director Gurudath and his team was searching very talented artists who are basically from film and theater background.
Then, Chinmaya Rao suggested Mangalorean Actor Sandeep Malani who is who was settled as a Director in Bollywood. He performed very well in this project and later he performed also in "Mission Mangal" a top Bollywood movie.
Mookavismitha was more than just a film. It was a result of the director's creative vision, to bring forth the essence of playwright, T.P. Kailasam's work and entertain the audience with an engaging plot. Movie was released in May, 2019.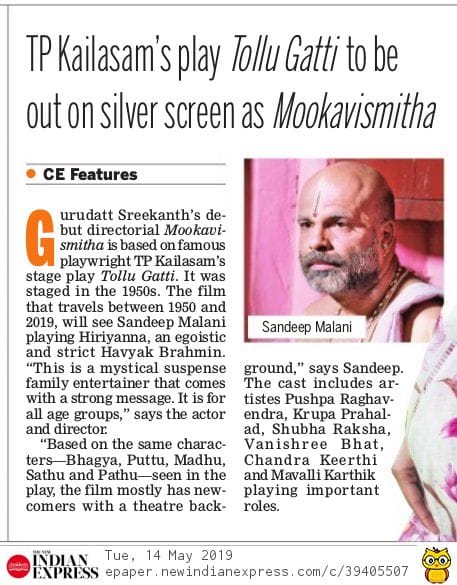 This is the first day of shoot of Mookavismitha – Kannada MovieMy first make up for the character of Hiriyanna…. was too excited. In this video, shot in Sagar (Shimoga District), you can see me introducing you to the director Gurudutt Sreekanth#Mookavismitha #KannadaCinema #Sandalwood #TPKailasam #TolluGatti #StruckSpeechless #MalaniTalkies

Posted by Sundeep Malani on Tuesday, 9 April 2019
Addressing the Press conference after the award ceremony – with director Gurudutt Sreekanth.I won the award for my performance in Mookavismitha – Kannada Movie

Posted by Sundeep Malani on Sunday, 8 September 2019
On the occasion of director Gurudutt Sreekanth's birthday 🎁💐🎂🎉Exclusive : a dramatic tensed scene from Mookavismitha – Kannada MovieThis difficult and intense scene was shot to perfection by Guru. Watch out | like | comment | share this video as it reaches everyone – very soon we will see you all at major film festivals across the globe.Hiriyanna; Bhaagi; Nagathe; Sathu; Pathu; Maadhu; Puttu….. characters of 1950s real on celluloid.#Mookavismitha #StruckSpeechless #TPKailsam #TolluGatti #3StarRatings #Appreciations #GoodReviews Sundeep Malani | Pushpa Raghavendra | Krupa Prahalad | Shubha Raksha | Vanishree Bhatt Nagaraj | Chandra Keerthi | Mavalli Karthik | DrChinmaya M Rao | Santosh R Chawla | Sasi Viki | Punith M Ranganatha | Siddu GS | Srikanth Daaldur | Rakesh Nayak | Suraj Pandith | Swamynathan RamaKrishna | ಪರಮ್ ಕಲಾವಿದ | Velmurugan Velu | Sunil Krishnaiah#JaiGuruCreations | The Studio Agency | MALANI TALKIES | Meena Malani | Kalpana Pandit

Posted by Sundeep Malani on Sunday, 26 May 2019